Sadly, I've really been falling behind on ARCs these last few months. This year, I'm turning over a new leaf - I'll be participating in The Herd Presents'
Blogger Shame Challenge
to catch up on old (aka recently released) ARCs and try keeping up with more current ones. And I'm not doing so poorly thusfar - I've already read a new ARC this year
and
I've gone through a few backlisted (though not ARC) books. The future is looking bright for my ARCs. Until I get around to more, here are a couple books you should be getting excited about:
Moonshine by Jasmine Gower (February 6th) - First of all, I can't get enough of this cover. It is absolutely stunning and so creative. It also gives you a pretty good idea of what the book is about - it's like "Thoroughly Modern Millie" and urban fantasy smushed into one delightful little novel. I adored this and I'm so excited to see what else the author has to offer.
The Language of Spells by Garret Weyr (June 26th) - Such an adorable book! This middle grade story is so wholesome and sweet -and it has some very kind and tenderhearted dragons. Weyr tells the tale of a lonely dragon and a lonely little girl so well - you feel like you understand them and their predicament so well. It's a bittersweet and tender book, perfect for young fantasy readers.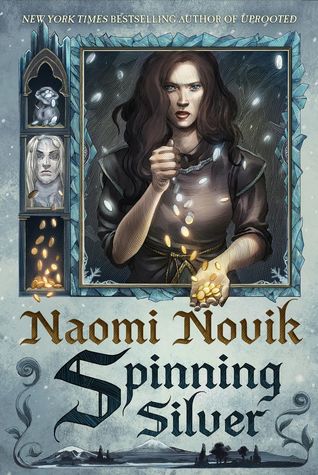 Spinning Silver by Naomi Novik (July 10th) - Again, what a beautiful cover. If only I could get my hands on this ARC. I loved Novik's Beauty & the Beast retelling and was worried she wouldn't write any more fairytales - and now she announces a Rumpelstiltskin retelling. Thank goodness she has - and hopefully she'll be retelling fairytales for years to come. Now I just have to worry about waiting til July...
What upcoming books are you excited about? What new releases have you been ranting about? What gets you excited about a new book?